I fell in love with Riley Blake's Sweetest Thing fabric the minute I saw it. I wanted the whole collection, I really did. Instead, I just settled for a few prints and some coordinates from other places at the quilt shop I frequent. The sweet birds and hearts, the ditsy floral and yellow! Oh yes, I had to have it all! I envisioned a whole spring wardrobe full of dresses, bubble shorts, tops and capris. So far, I've just managed a dress, but there's still time, right?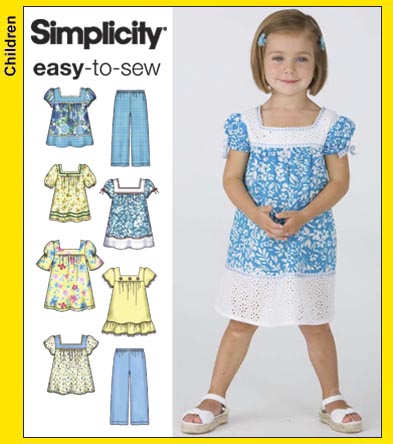 This dress is from a simplicity pattern
3511
. It has a pretty square yoke and an a line dress. I did adjust the sleeves and put on a flutter sleeve. Because the original has sleeves, I finished the arm holes with some yellow bias tape. I guess I
am
terrible about following patterns after all! I swear, I didn't change anything else, though. Cross my heart. I made it in a 2T and it fits pretty well. The yoke is a bit big and stiff but it works well and it's perfect for summer.
As you can see, she's not really sure about it. What you can't see are the adorable gingham bloomers underneath.
No, really, mom, it should be PINK!
I adore the trim along the yoke. I found this sweet twill tape on
etsy here
.
and the back has two small buttons to hold it closed, but it actually slips off and on just fine without them.
I've received more compliments on this dress than just about anything else Little Miss has worn. It's always very nice to have someone stop and ask where you got a dress and get to respond "Thanks, I made this one!" Few things make me feel giddy like that does, even if Miss would prefer it's pink.
The hem is almost two inches, so I can let it down as she grows. I'm sure she'll get a couple of years out of this, maybe three since she's been growing so slowly.